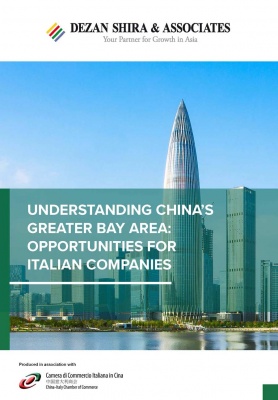 Understanding China's Greater Bay Area: Opportunities for Italian Companies
Published: February 2023
In collaboration with the China-Italy Chamber of Commerce (CICC) and compiled by professionals from Dezan Shira & Associates, this publication aims to provide an overview of the opportunities and growth areas in China's Greater Bay Area. It is an ideal reference not only for Italian investors looking to enter the GBA, but also for companies who already have a presence here and want to keep up-to-date with the most recent benefits and developments.
The Greater Bay Area (GBA) initiative is an ambitious plan to integrate and transform nine mainland cities in the Pearl River Delta and two special administrative regions – Hong Kong and Macao – into an international bay area that will rival other such world-class city clusters like the New York, San Francisco, and Tokyo Bay areas.
China's Greater Bay Area
Since the formulation of the GBA initiative in 2017, business communities have placed high expectation on the coordinated development among GBA cities, as the removal of barriers that limit the movement of trade, capital, information, and people – coupled with targeted government policies – will allow various industries to flourish.
Given its dynamic and comprehensive industry landscape, its large and wealthy local consumer base, as well its ability to attract highly skilled talents, the GBA is one of China's most investor-friendly areas with a long history of foreign engagement.
Italian Business in the Greater Bay Area
The Italian business community possesses strong advantages in the food and beverage (F&B), hospitality, machinery and automotive, electronics, fashion industries, which are among key areas promoted for the GBA's success.