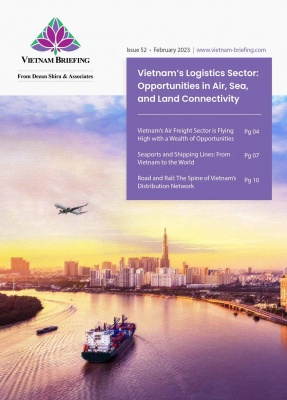 Vietnam's Logistics Sector: Opportunities in Air, Sea, and Land Connectivity
Published: February 2023
Vietnam's logistics sector is filled with opportunities for investors looking to expand their Southeast Asian logistics portfolios. This magazine is packed with data and insights that savvy investors might need to navigate the wealth of opportunities in Vietnam's logistics sector.
Demand for infrastructure in Vietnam is reaching critical levels. More and more manufacturing firms are choosing to establish themselves in the burgeoning Southeast Asia and this is seeing huge inflows of foreign direct investment. This in turn is creating jobs and Vietnam's middle-class is becoming ever-more wealthier. Subsequently, consumer spending is at all-time highs too.
But moving goods around Vietnam can sometimes be tricky. As an emerging economy, road and rail is not always of the highest quality and airports and seaports often reach capacity, and even run over capacity, quickly after being completed. There are however extensive plans for all three key components of Vietnam's logistics networks, namely: air, sea, and land.
But this will take capital and lots of it. To tackle this challenge, Vietnam is pursuing a number of incentives for foreign investors. It is also eagerly pursuing public-private partnerships in all three sectors to increase the speed at which infrastructure projects are completed and to ease the burden on Vietnam's tax payers.
Overall, Vietnam's logistics sector has challenges, but it is also filled with opportunities. Across the board, growth is expected to be maintained well into the foreseeable future and the sector is likely to open up even more to foreign firms as pressure mounts to improve the way goods move in and around Vietnam.
This guide outlines what Vietnam currently has in terms of infrastructure, the plans it has in place to extend its infrastructure network, and all of the key details foreign investors should know when considering investing in Vietnam's logistics sector.
In this issue of Vietnam Briefing magazine we look at Vietnam's air freight sector alongside its plans to expand its network of airports, its domestic sea shipping enterprises and the challenges it faces up against international competitors, and road and rail development designed to reduce Vietnam's emissions and speed up the transportation of goods around Vietnam.
With offices located across Southeast Asia and years of experience helping foreign enterprises set up operations in Asia, Dezan Shira & Associates is well positioned to assist your company in Vietnam. For more information, please email us at asia@dezshira.com.