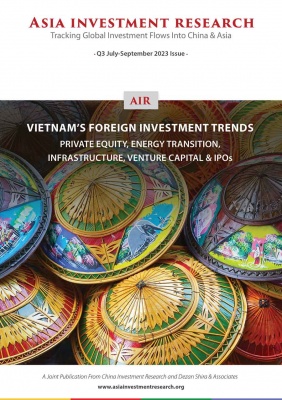 Vietnam's Foreign Investment Trends - Private Equity, Energy Transition, Infrastructure, Venture Capital & IPOs
Published: July 2023
This latest publication by Asia Investment Research aims to offer comprehensive data on energy transition, infrastructure, and capital flows in foreign direct investment (FDI) within Vietnam. Our research provides readers with detailed insights, sometimes obtained from bottom-up analysis. We specifically focus on delivering valuable information to governments, rating agencies, corporates, and institutional investors — information that may not be readily available from major investment banks or rating agencies.
This issue of AIR's Vietnam research has been written to focus on near term gains Vietnam has accomplished over the past two years and over the coming two years. While we address longer term growth plans (post 2025), we focus on the near term.
It is designed to provide detailed data –sometimes from bottom up,, on energy transition and infrastructure as well as capital flows in FDI (and including below/outside of official FDI) , Private Equity  (PE) and Venture Capital (VC), to readers already familiar with Vietnam. Our specific focus is on Governments, rating agencies, corporates and institutional investors – specifically on information they cannot obtain from major investment banks or rating agencies.
In general, they illustrate a very positive set of results: there is still work required in completing major long term infrastructure projects, further developing its financial markets and the challenge of raising US$135 billion to fund energy transition from coal and hydro to renewable by 2030- but Vietnam, based on its recent track record, is well positioned to achieve many of these goals.