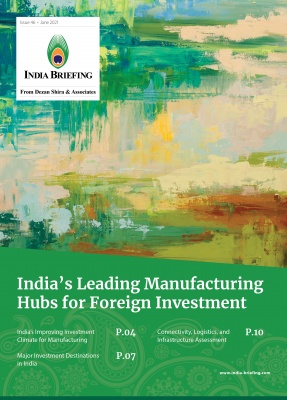 India's Leading Manufacturing Hubs for Foreign Investment
Published: June 2021
We provide an overview of the reforms and incentives offered to make India a more viable manufacturing investment destination. This is followed by a spotlight on top performing states and the latest programs marshaling India's infrastructure growth, especially its logistics corridors. The magazine also discusses factors important for new and existing investors when strategizing their market entry, relocation, or expansion.
In the wake of many troubling external headwinds and geopolitical factors affecting supply chains in recent years, India has made diligent steps to grow its local manufacturing and innovation capacity. Once the pandemic struck, this commitment to 'Make in India' was reinforced under the 'Self-Reliant India' pivot.
That has, however, not meant self-sufficiency. Rather, it underscores India's keenness to reduce risky import dependencies, start visibly participating in global value chains, and meet developmental aims through jobs creation, nurturing talents, and expanding the urban reach. Moreover, fulfilling these ambitions does require greater foreign capital, another reason why India is not closing in but opening up to more foreign investment. Besides sector-based incentive programs, many Indian states have refurbished their industrial policies with support for target industries. It is no surprise then that foreign direct investment into the country reached US$81.7 billion in FY 2020-21.
In this issue of India Briefing, we provide an overview of the changes making it more viable to invest in a manufacturing setup in India. We then dive into assessing the top investment destinations in the country based on select parameters and identify factors that foreign investors must consider when choosing their location or strategizing market entry. Finally, we showcase some of the latest programs marshaling India's infrastructure growth, especially its logistics corridors, and where foreign companies should look to identify favorable opportunities.
Dezan Shira & Associates has a growing team of business advisory, tax, accounting, and legal professionals in India with years of experience helping foreign enterprises with their investment plans and market entry strategies. For questions or information on location assessment and country benchmarking, industry analysis, regulatory and tax compliance, or other considerations related to market entry, relocation, and business expansion, please contact our offices in India.