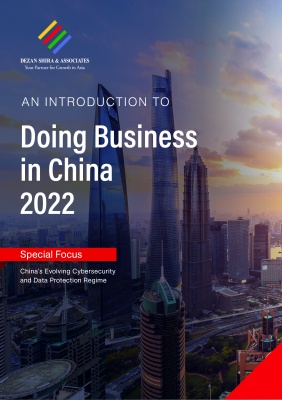 An Introduction to Doing Business in China 2022
Published: December 2021
Doing Business in China 2022 is designed to introduce the fundamentals of investing in China. Compiled by the professionals at Dezan Shira & Associates in December 2021, this comprehensive guide is ideal not only for businesses looking to enter the Chinese market, but also for companies who already have a presence here and want to keep up-to-date with the most recent and relevant policy changes.
China continues to be an attractive and reliable investment destination despite multiple external headwinds like the ongoing pandemic and geopolitical tensions. In 2020, China overtook the US to become the world's largest foreign direct investment (FDI) recipient and the country expects FDI to rise 10.8 percent year-on-year to RMB 1 trillion (US$160 billion) in 2021. Indicative of business optimism, 41,600 foreign-invested enterprises were newly established in the first three quarters of 2021.
There are, however, some downward pressures affecting China's economy – uncertainties in the real estate sector, roll-out of carbon reduction policies in various industries, and comparatively weak consumption trends. Compliance for businesses have also been complicated by a slew of new laws and regulations in 2021, including the long-waited data and privacy protection laws.
Under these circumstances, it is increasingly important for foreign investors to get familiar with the changes in China's business landscape, identify areas of risk in advance, and take steps to prepare for new market opportunities. This is the only way investors can stay nimble in an otherwise challenging time.
Designed to introduce the fundamentals of investing in China, this publication is compiled by experts at Dezan Shira & Associates, a specialist foreign direct investment firm providing corporate establishment services, business advisory, tax advisory and compliance, accounting, payroll, due diligence, and financial review services to multinationals investing in emerging Asia.
Doing Business in China 2022 covers the following:
Establishing and Running a Business
Tax, Audit, and Accounting
Human Resources and Payroll
Cybersecurity and Data Protection
Within these chapters, we discuss a range of different topics that affect doing business in China, including investment models, intellectual property considerations, key taxes applicable for foreign companies, and various types of employment contracts. In addition, we add a new chapter explaining the evolving data and cybersecurity compliance requirements in China.