Event Details
2019 International Anti-Corruption and Compliance Summit
DEC
12
2019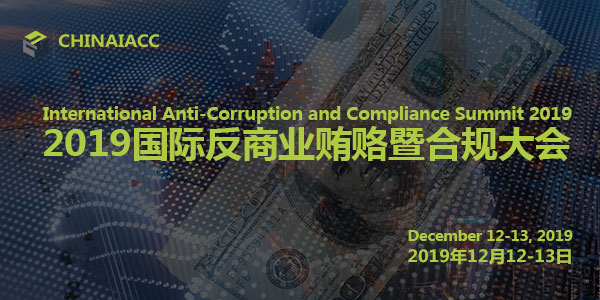 Compliance has gradually become one the focuses of interest for companies in recent years. Compliance in the broad sense covers all aspects of business, while compliance in the narrow sense mainly refers to anti-commercial bribery. As the efforts of anti-corruption are enhanced in China, it has become one of the top priorities for companies to reduce the legal risks regarding commercial bribery. One recent estimate put the annual cost of bribery at between $1.5 trillion and $2 trillion, or about 2% of global GDP. Corruption remains an urgent social problem in every country, including China. The fight against corruption is spreading and China is continuously enforcing its own anti-corruption laws, which means that China will more vigorously enforce transnational anti-corruption laws against domestic and foreign companies and individuals. Therefore, it's important for companies running business in China to deal with corruption.

As China's role in international business and global economy becomes more and more important, many countries will enhance their cooperation with China in terms of anti-corruption. 2019 International Anti-Commercial Bribery and Compliance Conference is dedicated to helping companies to improve their management of regular business to achieve compliant operation. Legal and compliance executives of top international enterprises will also be invited to share their practical cases and management experiences, and discuss existing problems and solutions.

Event Highlights

• Latest trends of anti-commercial bribery in the United States and case study
• Lessons we can learn from major overseas anti-commercial bribery legislation
• OECD anti-corruption best practices and case studies
• Hot issues of commercial bribery under the new Anti-unfair Competition Law
• Participate in the "One Belt One Road" initiative and guard against overseas compliance risks
• How to achieve compliance with automation and robot program?
• New Technologies for Anti-Corruption & Integrity
• Combatting Corruption: The Impact of Tax Information Sharing
• How to establish an effective compliance plan in China?
• How to handle the most rigorous investigation in China?
• Proactively prevent corporate compliance risks with international standards
• Commercial bribery and legal risks in academic conferences sponsored by pharmaceutical enterprises
• How will companies transform in future as the pharmaceutical industry is struck again by the storm of anti-commercial bribery?
• Anti-monopoly and anti-commercial bribery in the medical device industry under the new normality
• Anti-bribery and anti-corruption challenges in automotive industry
• Compliance of dealer's incentive rebates
• Avoid commercial bribery and monopoly risks regarding sales incentives
• How do enterprises identify, investigate and respond to commercial bribery?
• Determination of criminal liability of individuals and companies in commercial bribery
• How to do an internal investigation against commercial bribery?
• Best practices for third-party due diligence and risk control
• Establishment and improvement of enterprise compliance system
Please click here for more information and registration.
---

Borscon is a professional business service company in China. We elaborately organize many high-level conferences, forums and summits with commercialization, and we provide high-valued marketing intelligence material and consulting service.
---
Shanghai, China | 12th-13th December 2019
Back to event home