Event Details
2nd HR Summit South China
NOV
02
2018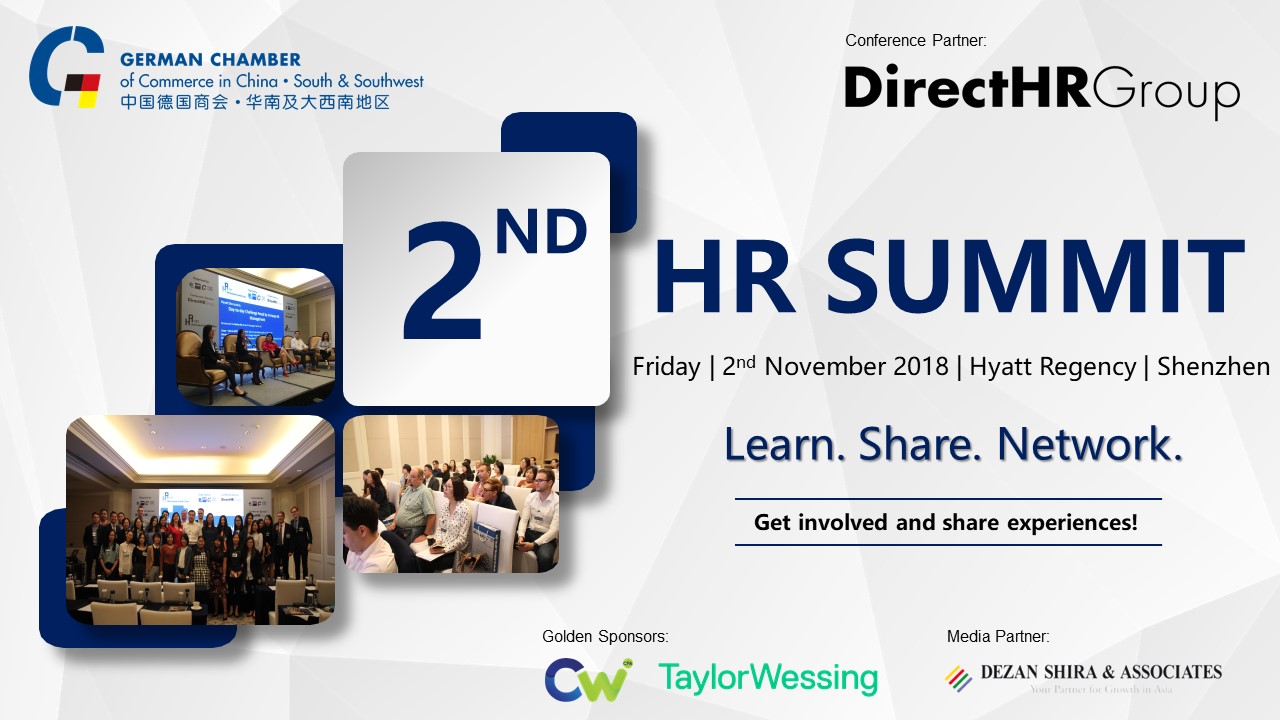 Effective human resources management continues to be a big challenge for foreign companies with operations in China. As China's economy is transitioning towards becoming a "knowledge economy" the needs of employers and employees alike are changing as well. The annual member surveys among the 1,600 German Chamber member companies support this claim: Rising labor costs, flattening productivity and an overall shortage of skilled workers remain the primary concerns of the member companies.
Created to address these pressing concerns "HR Summit South China" has been successfully established in 2017 by the German Chamber of Commerce in China | South & Southwest with the conference partner Direct HR to serve as a yearly HR flagship event not just for German companies in China. Speakers from various industries share their best practices and HR experts exchange ideas.
Agenda:
8:30 AM-9:00 AM Registration and reception
9:00 AM-9:10AM Opening and welcome - By Mr. Ralf Mazet, Board Member of German Chamber | Head of Manufacturing Service Asia at Devolo Asia Consulting (Shenzhen) Co., Ltd.
9:10 AM-9:40 AM Key Note Speech #1: "Corporate Culture - effects on engagement and productivity" - By Mr. Dong Duong, General Manager at Trolli Guangzhou Confectionery Co., Ltd.
9:40 AM-10:10 AM Key Note Speech #2: "Talent Review Boosts the Employee Development" - By Ms. Emia Hu, HR Manager at Testo Instruments (Shenzhen) Co., Ltd.
10:10 AM-10:40 AM Key Note Speech #3: "Motivation Towards New Generation for High Performance" - By Ms. Stella Zhang, Senior Consultant - Total Rewards Solution at Mars China
10:40 AM-11:00 AM Coffee break
11:40 AM-12:00 PM Case Study: "Employee Fluctuation Management Experience" - By Mr. Trevor Ding, General Manager at ELRAD Electronics Co., Ltd
12:00 PM-1:15 PM Buffet lunch
1:15 PM-2:15 PM Workshop A: "Developments and Trends in Learning and Development, Mentoring Programs for Work Teams" - Hosted by Mr. Geoff Kershler, Business Trainer, Speaking Coach
Workshop B: "Individual Income Tax (IIT) Especially New IIT Law" - Hosted by Ms. Bolivia Cheung, Consultant at CW CPA
Workshop C: "Performance Management: How to Assess Performance Under a Legal Point of View" - Hosted by Mr. Ralph Koppitz, Chief Representative, Partner at Taylor Wessing
2:15 PM-2:35 PM Coffee break
2:35 PM-3:35 PM Keynote Speech #4 "Skill Sets for a World in Change" - By Ms. Mette Pausgaard, Founder and CEO of Mimir Consulting
3:35 PM-3:45 PM Closing remarks and thanks
How to Register:
For information and registration please click here. Or email shenzhen@gz.china.ahk.de
---

The German Chamber of Commerce, South & Southwest China (GCC) represents German companies doing business in the region. GCC, South & Southwest China supports its members by providing them with networking events, up-to-date market information, and advice.
---
Shenzhen, China l November 2, 2018 l 8:30 AM - 3:45 PM Hyatt Regency, Shenzhen Airport
Back to event home