Event to Showcase the Burgeoning Global Functional Food Industry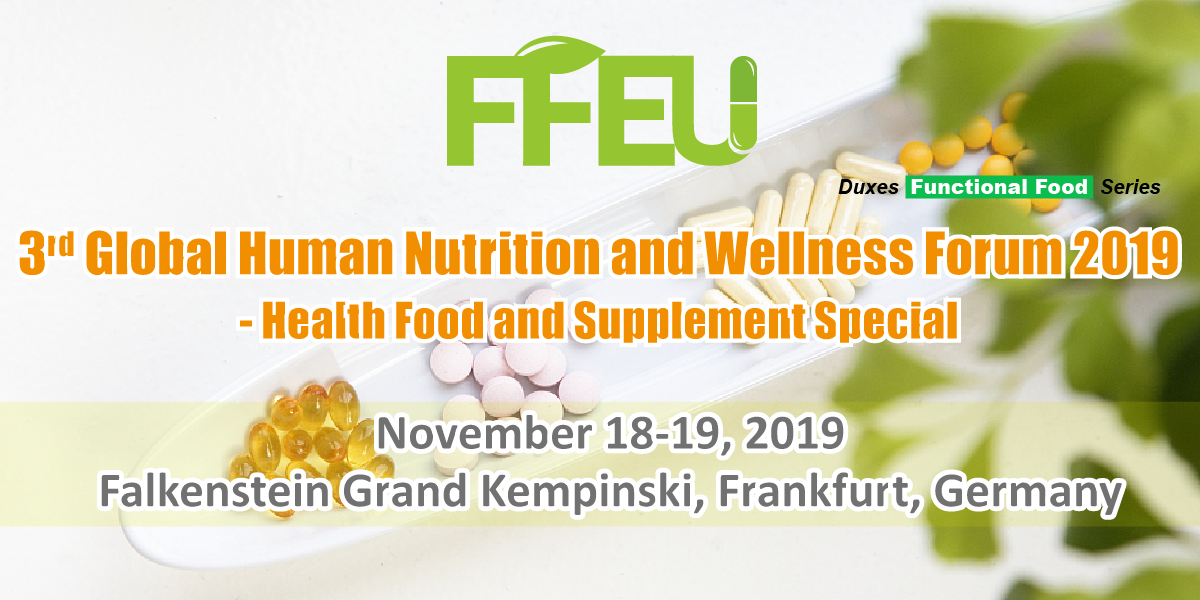 To help facilitate innovation and exchange in the global marketplace, Duxes will host the 3rd Global Human Nutrition and Wellness Forum 2019 on November 18-19 in Frankfurt, Germany. The summit will gather delegates from across the functional food and nutraceuticals industry, including government officials, researchers, analysts, and representatives from leading companies and industry associations.
During the two-day event, industry professionals will address a range of important topics including market trends, regulatory developments in key jurisdictions, R&D innovation, successful marketing strategies, and the rise of cross-border e-commerce. Further testimony from industry leaders and researchers will provide firsthand knowledge on crucial product innovation.
The 3rd Global Human Nutrition and Wellness Forum 2019 will provide a platform for high-level exchange and collaboration within the functional food industry, continuing Duxes' support for the industry's growth. Duxes has organized functional food conferences for nearly a decade in China, Singapore, and now Europe, which have been acclaimed for their timely coverage and interactive format. Professionals working for food, beverage, dietary supplement, and pharmaceutical companies as well as in any related fields are invited to attend.
Highlights include:
Firsthand testimony on market entry and supervision regulatory updates for functional food and dietary supplements within EU, US, China and Middle East markets
Health and wellness analysis report for consumers in North America, Europe and Asia
Detailed look at the role of health product innovations in meeting new market demands
Discussions on products with high growth potentials such as plant-based products, CBD and hemp extracts
Emphasis on food safety: preventing food fraud in health supplements and improving supply chain transparency
Exploration of how to make full use of cross-border ecommerce channels to boost business
Identifying potential partners and seeking opportunities for collaboration
For more information and registration please click here.
Frankfurt, Germany, November 18-19, 2019