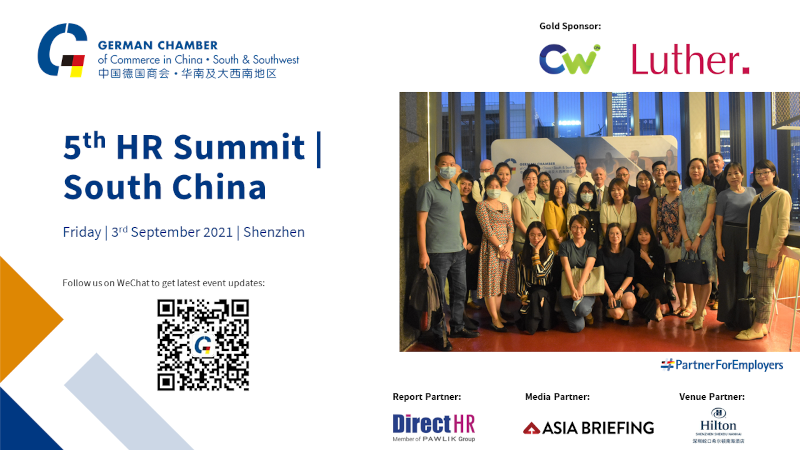 Guilherme Campos, International Business Advisory Manager of Dezan Shira & Associates' GBA region will moderate the panel discussion: Talent Acquisition Strategy for SMEs on the 5th HR Summit on Friday, September 3rd, 2021, held by the German Chamber of Commerce | South and Southwest in China. With inhouse HR managers from a range of manufacturing enterprises, Guilherme will share his experience dealing with various HR issues from the perspective as an external expert, and have a discussion on how SMEs could develop their talent acquisition strategy and overcome the key hurdles in the process.
HR Summit South China has been established successfully for the past couple of years. The overall aim is to build the network, knowledge-sharing, ideas-exchanging platform for the HR expertise and participants. This year's focuses are:
Human Resource Management in Tough Times
Human resources management is not only one of the most discussed topics in the German Chamber Network but also concerns all kinds and sizes of companies. Especially during this challenging time, human resource managers often get together at the GCC HR Roundtables and Webinars to share best practices and industry news
Labor Market and Salary Report Presentation
The presentation of the German Chamber's 14th Annual Salary Survey in cooperation with Direct HR aims to provide a timely benchmark of general trends regarding Labor Market and Salary Developments for member companies. This year's benchmark publication examines the current developments in China's job market, as well as provides a forecast for 2022. The presentation will focus on the following aspects:
General labor market environment and expected development

Shenzhen-specific wage developments

HR challenges
The Labor Market and Salary Report 2021 | 2022 is an exclusive report for German Chamber members.
Non-members will only have the opportunity to get access to the member-exclusive report by joining the event.
If you have any questions please contact Rebecca Huang at huang.rebecca@gz.china.ahk.de.
Panel | Hilton Shenzhen Shekou Nanhai | 1:00 PM – 5:00 PM