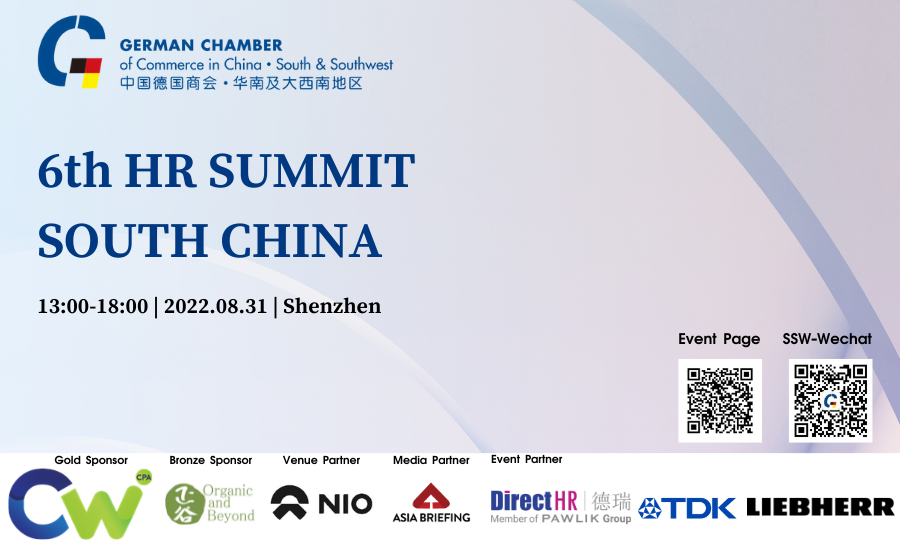 Due to Shenzhen's latest epidemic policy, offline activities are not allowed. This event will be held online via Zoom instead and the event time and content will remain the same.
HR Summit South China has been established successfully for the past couple of years. The overall aim is to build the network, knowledge-sharing, ideas-exchanging platform for the HR expertise and participants. This year we will focus on: Talent Acquisition and Retention Strategy in Tough Time. REGISTER HERE
Human resources management is not only one of the most discussed topics in the German Chamber Network but also concerns all kinds and sizes of companies. Especially during this challenging time, human resource managers often get together at the GCC HR Roundtables and Webinars to share best practices and industry news.
Labor Market and Salary Report Presentation 2022/23
Presentation of the German Chamber's 15th Annual Salary Survey:
HR managers frequently ask themselves whether the compensation packages their companies provide match the local market's average, and what salary should they provide based on seniority and region.
For the 15th time, the German Chamber of Commerce provides its member companies with the "Labor Market and Salary Report." This year's benchmark publication examines the current developments in China's job market, and at the same time provides a forecast for 2023.
Join us for an in-depth review of the wage and salary developments for your employees in Shenzhen in 2022, current developments on the job market and an outlook on the developments in 2023.
The online presentation will focus on the following aspects:
General labor market environment and expected development

Shenzhen-specific wage developments

HR challenges
The Shenzhen Labor Market and Salary Report 2022 | 2023 is an member- exclusive report. Non-members will only have the opportunity to get access to the member-exclusive report by joining the event. We encourage you to use this opportunity to direct your HR questions to our Expert!
AGENDA
13:00-13:30 Registration and Reception

13:30-13:35 Welcome Remark by the German Chamber

13:35-14:15 Case Study | TDK Corporation (Zhuhai)

14:15-15:00 Workshop | CW CPA

15:00-15:20 Coffee Break

15:20-16:00 Online Presentation | Liebherr (China) Co., Ltd.

16:00-17:30 Webinar: Labor Market and Salary Report Presentation 2022/23 | Direct HR

17:30-17:40 Closing Remark
VENUE:
Online
**Please note that
Registration will close at 4 PM, Aug 30.

All guests will need to show a 24 hours negative covid test to attend the event

This is a pre-paid event! Please complete registration and payment online in advance. No-shows will be charged with the full price.

Ticket can be refund before 4 PM, Aug 30th.  Due to F&B preparation, ticket cannot be refund 4 PM, Aug 30th.  

If you have any questions about the event, please feel free to contact huang.rebecca@china.ahk.de
Conference | 13:00 - 18:00 PM, Wednesday, August 31