Event Details
The 7th Procurement Success Summit: Asia
OCT
30
2019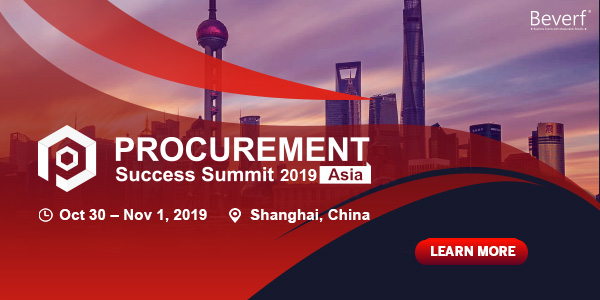 Procurement Success Summit is Asia's premier event for procurement & supply chain leaders. As previous years, the annual PSS summit is dedicated to providing the attendees with an outstanding conference experience.
Beverf will host the 7th Procurement Success Summit in Shanghai on October 30 - November 1. PSS2019 will bring together 300+ procurement executives from different industries to Shanghai and discuss the latest trends, challenges, best practices. Don't miss out the big gathering!
During the three-day event, procurement professionals will address a range of important topics including strategic sourcing at the global scale, leadership and team building in cross-functioonal team, enhance cost reduction and optimization, new members to grow, strategic role of procurement and business, moving forward to 2025–procurement future etc.

SPECIAL SERIES FOR THE 6TH ANNIVERSARY OF PSS
PSS Special Cocktail Dinner
In the evening of Oct 31, all attendees are invited to a special evening, brainstorm results releasing with fabulous dinner and live entertainment.
PSS CPO Think Tank(Invite Only)
Half Day Sessions Exclusively for 20 Top Level Procurement Leaders. This think tank provides the opportunity to learn from and network with like-minded procurement leaders, share insights and develop lasting relationships.
PSS Market Tour
PSS Market Tour provides a special buyer-vendor scenario where delegates can use PSS cash to purchase desired goods/services at the booth area. PSS Market Tour seeks to create an entertaining participation experience and generate more interaction.
For more information and registration please click here.
Shanghai, China | Oct 30 - Nov 1
Back to event home