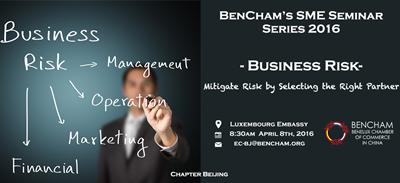 As China's economic growth continues to slow, mitigating business risk when entering or continuing to operate in China has never been more important for foreign investors. In order to help maximize return on investment and ensure an optimal China strategy for your business, it is also essential to understand the key operational, financial and legal aspects of these risks.

Dezan Shira & Associates is delighted to inform that the Benelux Chamber has invited Mr. Kyle Freeman, Senior Associate of our International Business Advisory Service team to participate in their April SME Seminar Series. In his presentation Kyle will be addressing the following issues:
Legal and operational best practices for SMEs looking to establish an entity in China
Finding and vetting Chinese partners
Tips and typical pitfalls of trademark issues for foreign companies looking to protect their brand
A short Q&A session will also follow the presentation.
Price: Benelux Chamber Members: 100 RMB | Non-Members: 150 RMB
Reserve your seat at here, or visit the Benelux Chamber of Commerce for more information.
Beijing, China | April 8, 2016 | 08:30 - 10:30