Event Details
The 7th China & Asia Textile Forum 2019
MAR
11
2019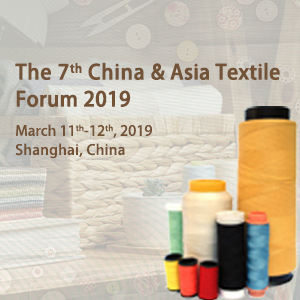 This summit will explore the development of the textile industry across Asia, as its growth in the region continues to receive widespread attention. The textile industry in countries such as Vietnam, Bangladesh and India stands to benefit from the China-US trade war, but these countries also face the challenge of tackling an increasingly competitive international trade environment. The US-China trade war and its effect on the textile industry will a focal point of this summit. Effects of the EU-Vietnam trade agreement will also be explored.
This summit will focus on the changes in the global textile and apparel industry, the latest developments in China's textile and apparel industry, procurement trends and shifts in China and Asia, and the challenges and reshaping of the supply chain under the China-US trade friction environment. It will also explore sustainable development and digital transformation in the global textile and garment industry.
For more information and to register, visit the event website here.
Shanghai, China | March 11-12, 2019
Back to event home